Development licenses grant you the right to generate multiple License Keys for your Java applications and to distribute them to your customers. This type of license is also referred to as an OEM license by some customers.
Development Licenses can be purchased online by visiting the Purchase Licenses section. If you prefer to make a purchase using a Purchase Order, receive a Quote or process wire transfer payments please send a request to sales@tanukisoftware.com. If you would like to renew the Annual Maintenance (TSIMS) of your Development License please visit Development License TSIMS Renewal.
Development License Purchase Overview
The Development License does not expire within the terms of the license. This means that versions of your Product which were initially released within the Annual Maintenance (TSIMS) Term can continue to be deployed after the end of the TSIMS term. Each generated License Key is tied to a specific application without any restrictions on how many physical machines it is installed and run on.
Development License Edition
Please click on the BUY NOW button available anywhere on our website. In the Purchase Licenses section select a Development License Edition and Add to cart.
Confirm Product Details
After selecting a Development License Edition, the following information is displayed. Please make sure that the license and price for your choice are correct and Add to 2Checkout cart.

NOTE
Please note that we do not charge sales tax for overseas, but 2Checkout may have to charge you according to your location. If you are tax exempt, you can request a refund later. When making payment, please make sure to select "Company" on "Licensed to:" in the Billing Information area. Then, fill in all the necessary fields, including your company's information (name, phone, fax, email address and email confirmation). If you do not insert the correct information, you will not get a refund for the taxes paid.
Payment Options
The 2Checkout website allows you to review and confirm the product you wish to purchase. If there are no changes to be made, go to Checkout.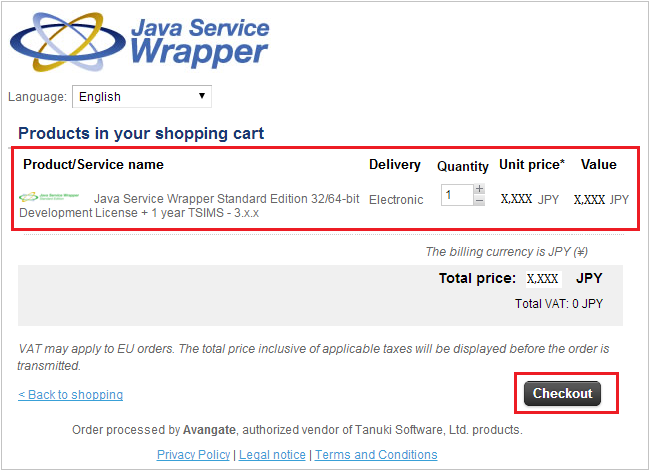 Billing Information
Please provide your billing information. If you want the name of your company to be included in the Invoice select Company and provide the information required. After selecting a payment method go to the Continue button.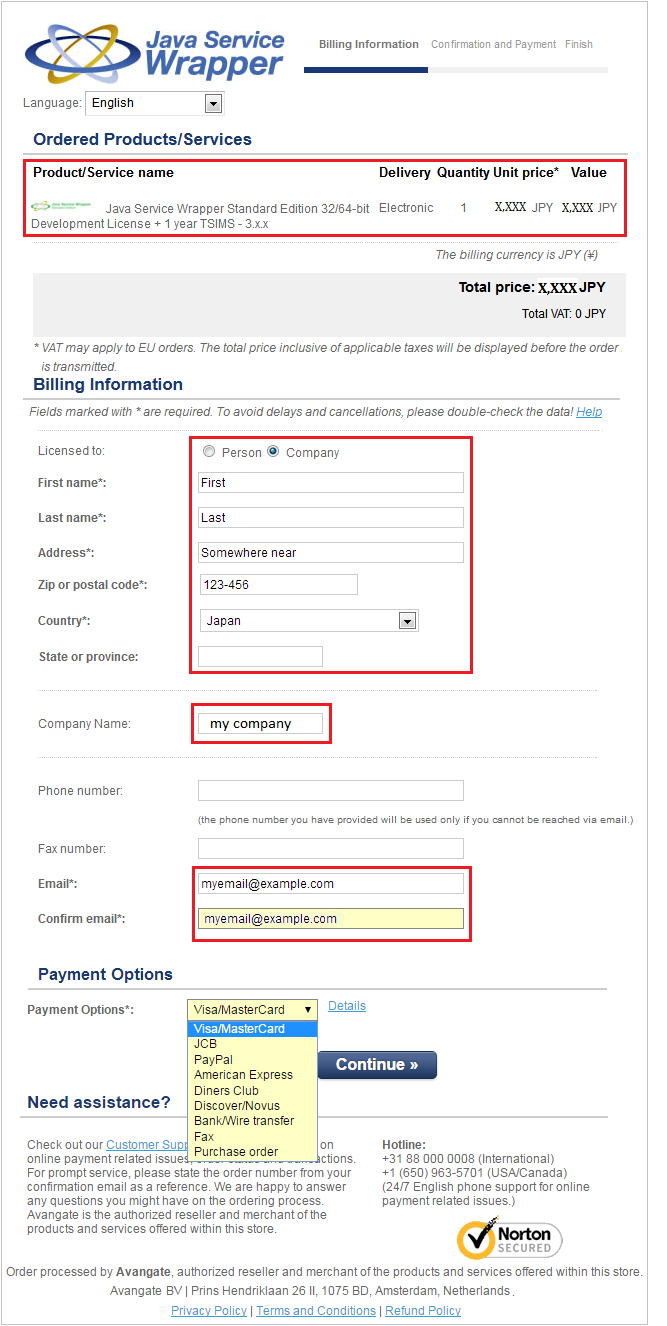 In the Payment Options section you can choose different payment methods. If you would like to send a Bank/Wire transfer or to place a Purchase Order in most cases we recommend doing so directly with Tanuki Software by sending an email to sales@tanukisoftware.com.
Delivery Information
This is the place to add the details and assign/share the license with a different team member. Complete the required fields and continue to Next step-Information review and finish your order.
Instructions to activate the account and access the Development License will be sent to the email address provided below.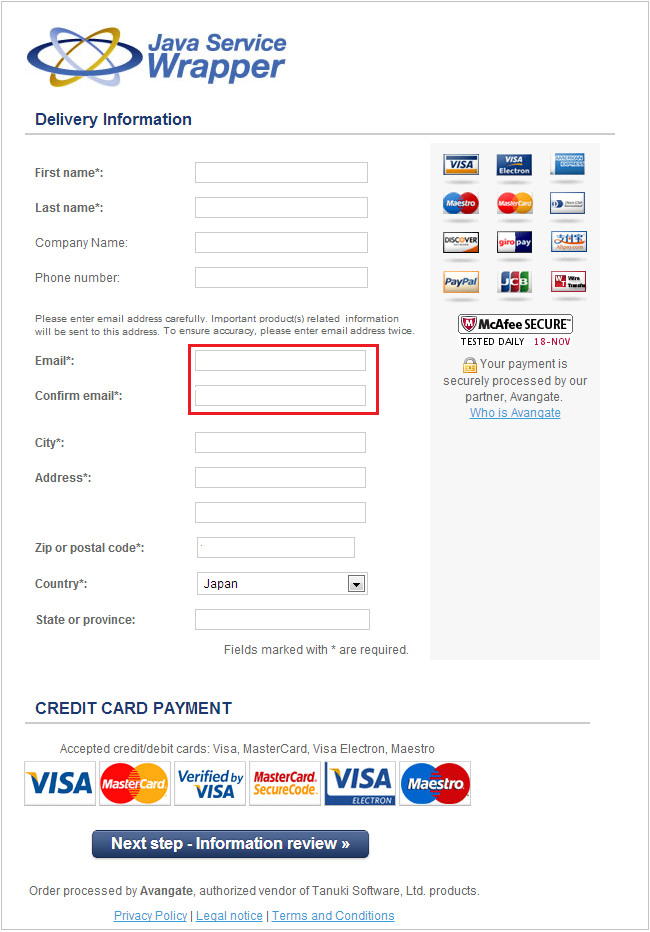 Confirm Payment
Provide the required information for your credit card and go to Place order. When processing payments via credit card you may encounter security issues and not be able to complete the transaction. If this is the case, please contact your financial institution.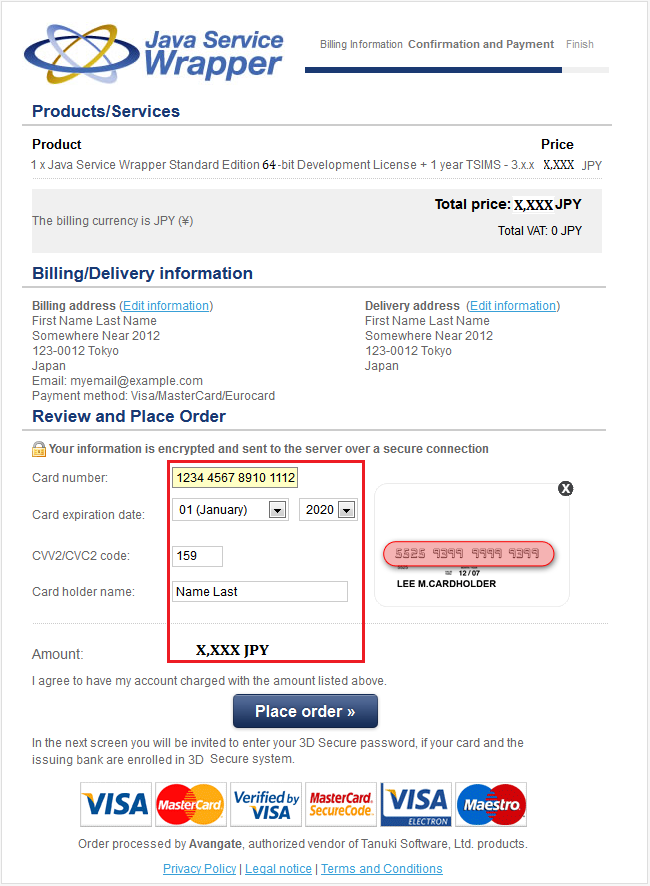 Finish your Order
A notification like the one displayed below will be generated confirming your order. It is recommended to save this Confirmation Order and have it in your records for future reference. 2Checkout will generate and send you the invoice for your purchase via email. If you need an invoice from Tanuki Software, feel free to request one at sales@tanukisoftware.com.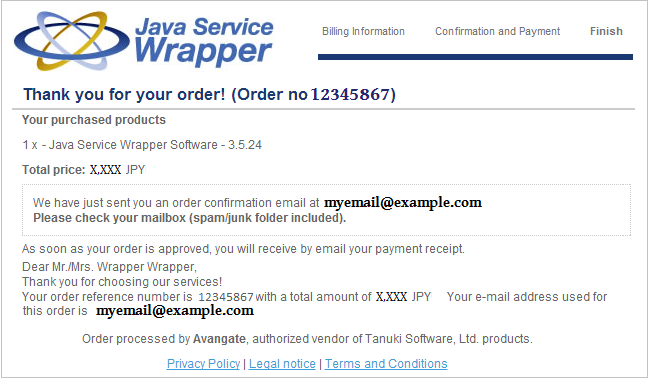 NOTE
The 2Checkout system will contact the Java Service Wrapper server as soon as the payment has cleared. This usually happens within a few seconds, but please allow up to an hour. Whenever our servers are notified, your development license is generated and assigned.
Now you can start using the powerful Java Service Wrapper's features to run your applications as a Windows Service or Daemon process. If you wish to test the Java Service Wrapper, please visit TestWrapper for further details.
Support:
If you are having problems installing the license key or have any questions, feel free to send us a Support request to support@tanukisoftware.com and we will be happy to help you.
Generate License Key
Once you have purchased a Development License you can generate a license key and start using the Java Service Wrapper. The following step-by-step procedure assumes you have an active account. If you haven't activated your account yet, please activate it using the link provided on the activation email, or request a new activation code and download the Java Service Wrapper.
Generate License Key
Complete the following information to generate a license key. The licensee text or company name and the name of your application are required.
Please choose the integration method that best fits your needs. Input your application's main class and finally click on the Generate Key button.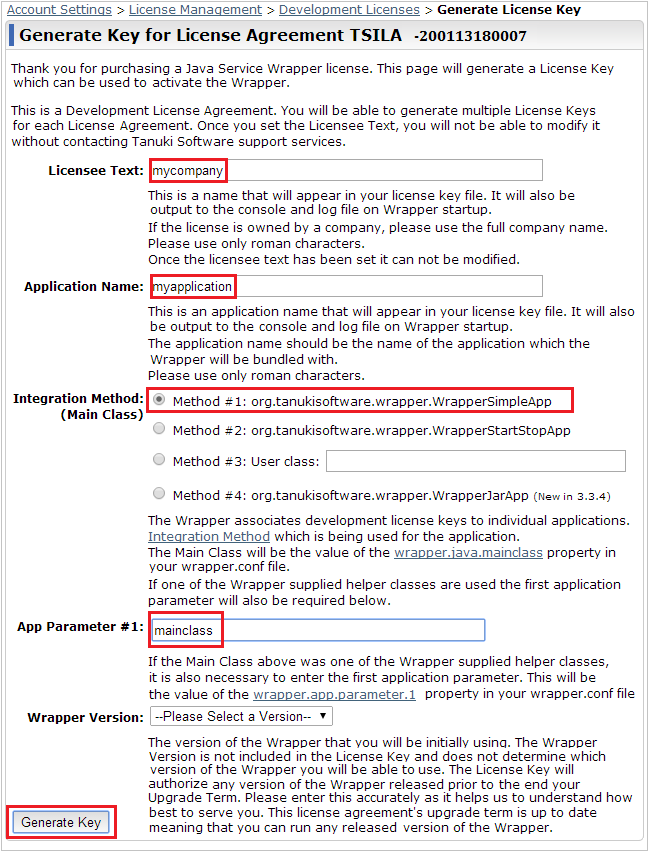 License Key
The License Key is generated automatically and looks something like the image below. If you would like to learn more about the license key please visit License key properties.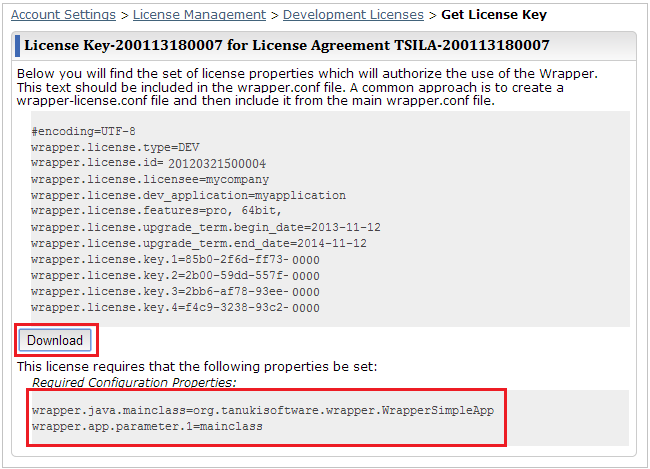 Reference
If this is your first time buying a Development License, the following information will help you download and install the Java Service Wrapper.